Ukraine is cooperating with China in the military sector ignoring its strategic partnership with the United States – that is the gist of a story carried by the Washington Times on August 15. The article by Bill Gertz deals with the supply of twenty engines for twelve Chinese Jl-10 jet trainer planes by the Ukrainian aircraft engine company Motor Sich. Gertz cites critics of the deal who claim that Washington should pressure Kyiv to stop delivering the engines to "America's rival".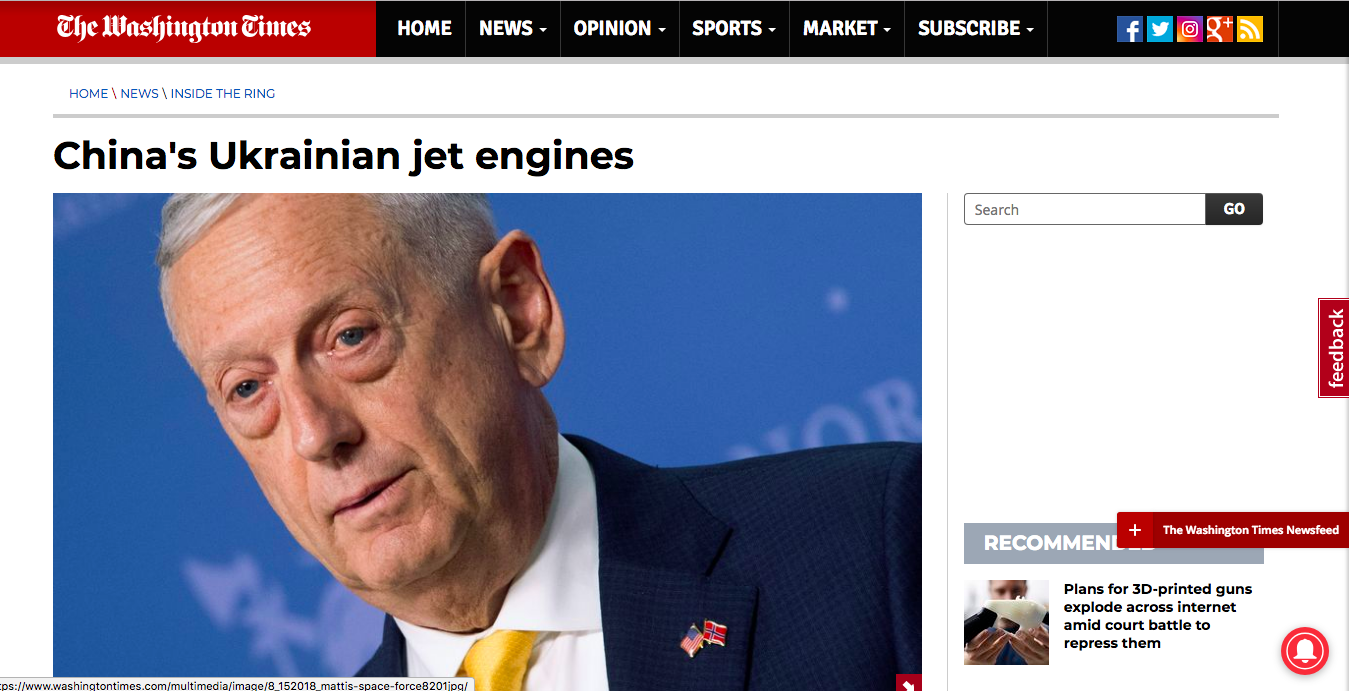 Citing official Chinese media, the Washington Times says the JLO-10 jet trainers will be used by navy pilots for carrier landing training. Unable to produce good-quality aircraft jet engines for at least a decade, China has purchased both Ukrainian and Russian jet engines to power its warplanes. The article does not cite any Ukrainian officials or Motor Sich representatives, but it does feature a critic of the deal, one William C. Triplett, who says the Trump administration should pressure Ukraine to halt the engine sales.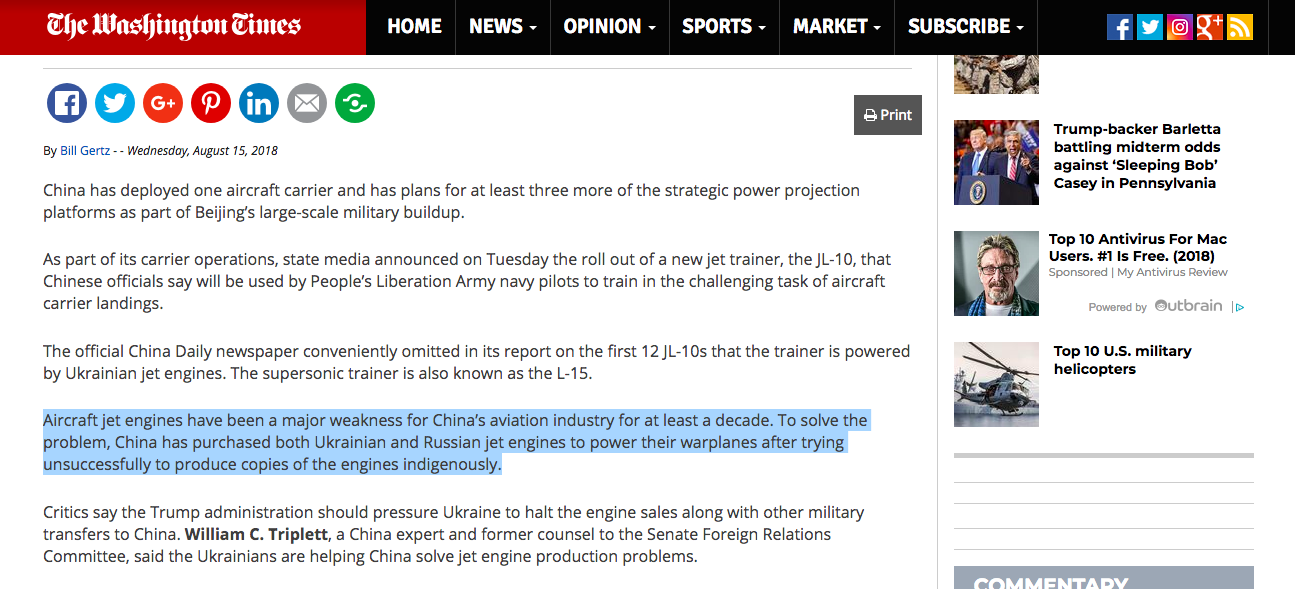 The Washington Times story was immediately picked up by Russian media and manipulated.  Sputnik's French version added that the Ukraine-China deal was for 250 jet engines for 380 million dollars. The online newspaper Fond Strategicheskoy Kultury called the deal "a Ukrainian knife in America's back" while Vesti completely misrepresents the original article and adds quotes that are nowhere to be found in the Washington Times story.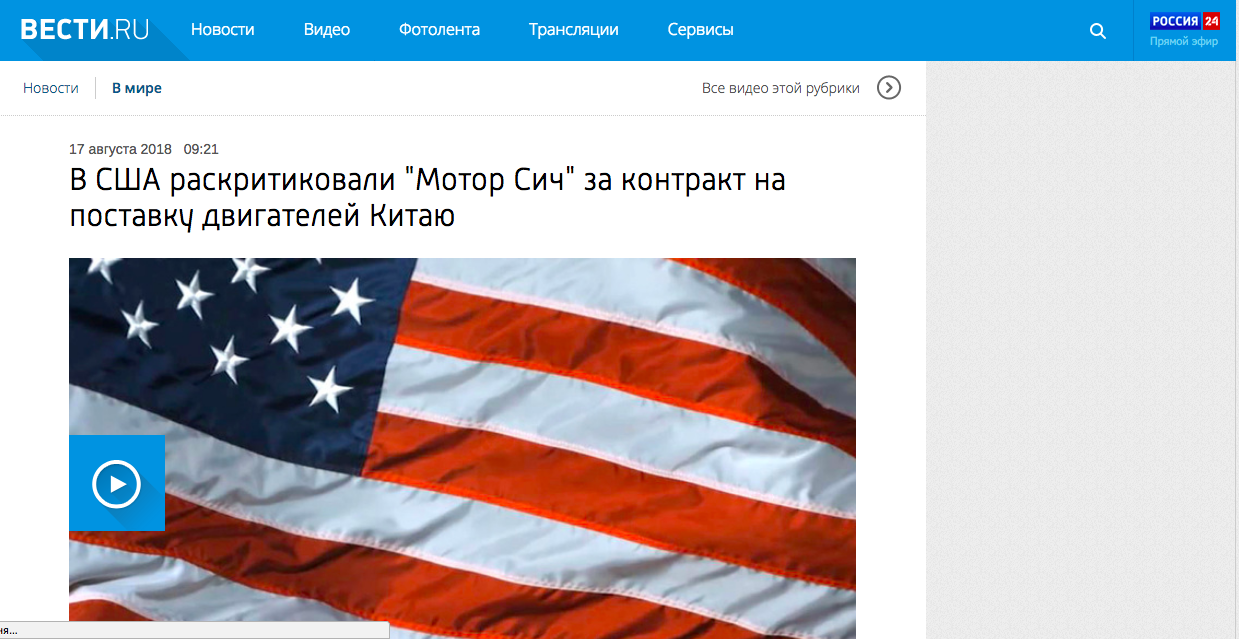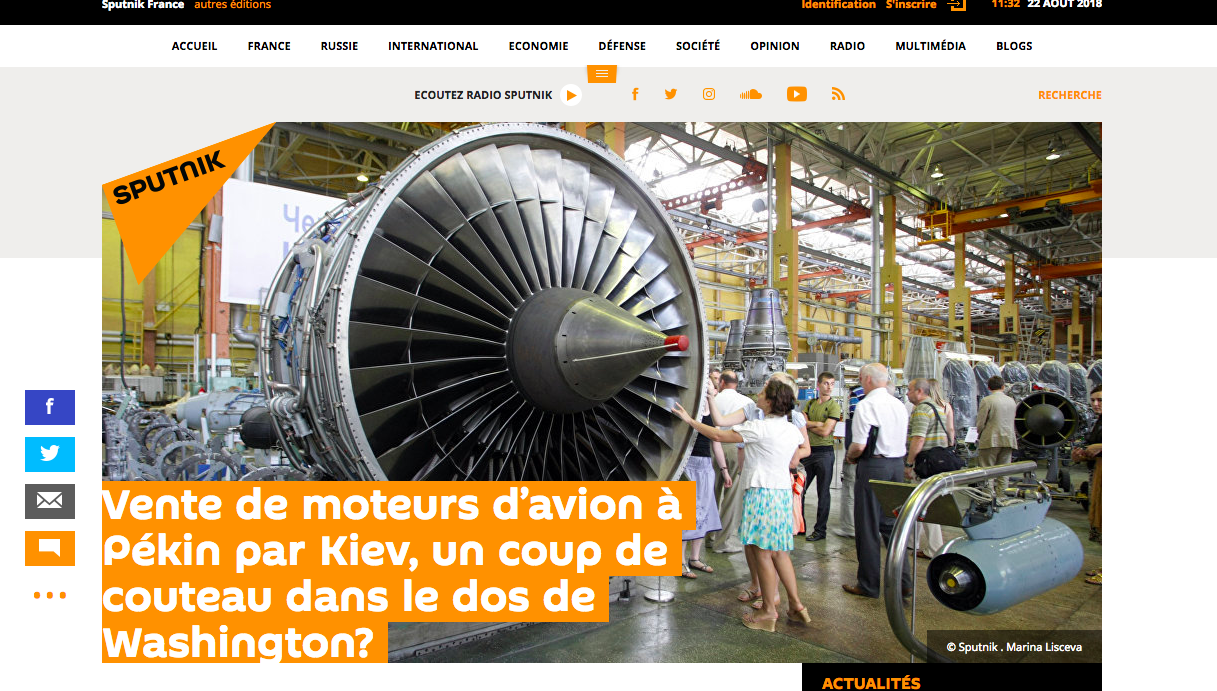 Motor Sich confirmed the engine deal. In an official statement published on a Zaporizhzhia web site Motor Sich points out that such manipulative articles further Russia's interests and that Moscow wants to squeeze its main competitor out of any dealings with the Chinese military market.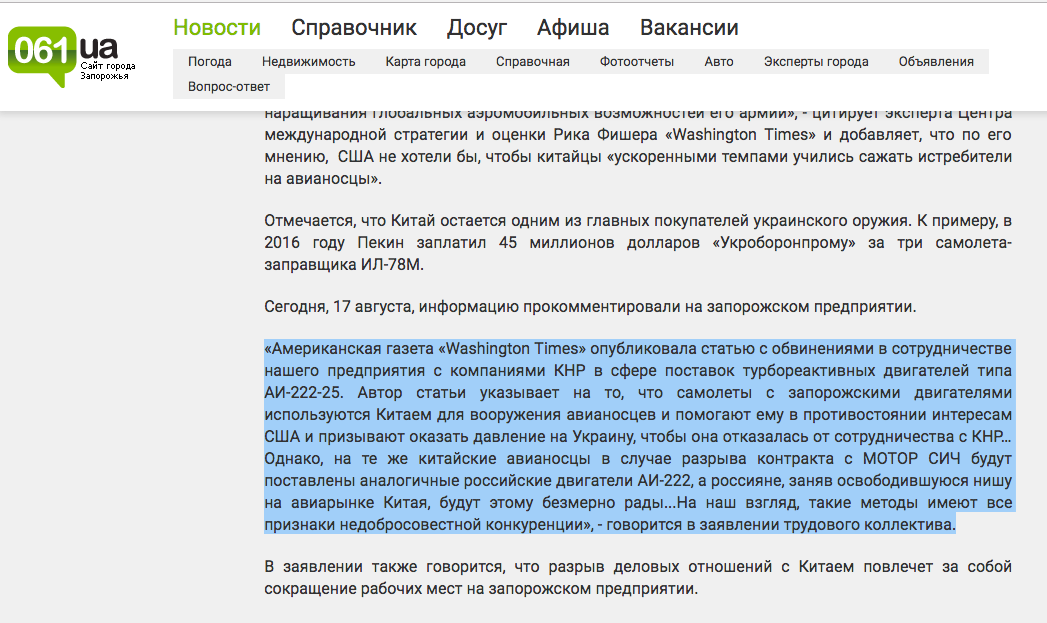 In the event of China breaking its contract with Motor Sich, Russia will supply Beijing the aircraft engines. All the hype created by the Washington Times article is directed at squeezing Ukraine out of the Chinese market and positioning Russia to occupy that niche, the statement reads.
Putting their own spins on the original somewhat innocuous Washington Times story, Vesti and others repeated a 2017 fake, that the Ukrainian rocket factory Yuzhmash was involved in transferring RD-250 rocket engine parts to North Korea. Ukraine's National Security and Defense Council chairman Oleksander Turchynov dismissed the Russian allegations as groundless.
Russian media also regularly accuse Ukraine of selling weapons to Syria and other sanctioned countries. StopFake has debunked several such claims.