On October 1, in its travel section, The Telegraph published an article by British BBC journalist John Simpson entitled "Crimea's Charms Uncovered." In the controversial piece, Simpson encouraged British citizens to travel to Crimea by breaking Ukrainian law, while also making several factually incorrect claims.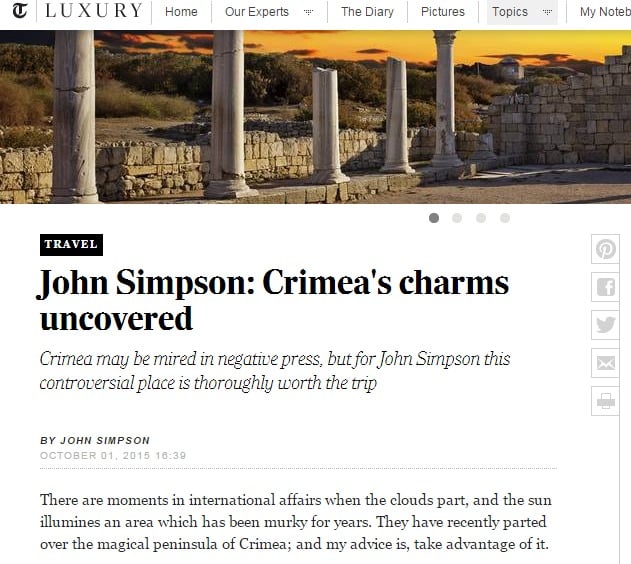 The article drew widespread condemnation, including from the Kharkiv Human Rights Protection Group, the Association of Ukrainians in Great Britain, and The Economist's Edward Lucas.
The article contained a number of serious errors.
For example, the first variant of Simpson's article claimed that Soviet leader Nikita Khrushchev handed over Crimea, which had allegedly always been Russian, to Ukraine. Later The Telegraph's editors revised this by indicating the time's that Crimea was part of Russia.
But the truth is that the Crimean Oblast was transferred to the Ukrainian SSR by a decree of the Presidium of the Supreme Soviet of the USSR, dated February 19, 1954, and by a Law of the USSR, dated April 26, 1954.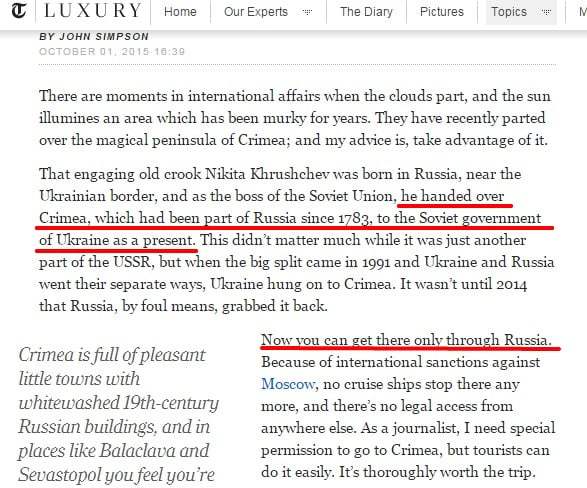 Simpson also claims that the only way to get to Crimea now is through Russia. But this is also incorrect: passage by land from mainland Ukraine to Crimea by transport and foot is possible. As for foreign, non-Ukrainian tourists, they must receive special permission from the State Migration Service of Ukraine. The details of the official procedure for entry can be found here.
Foreign citizens who circumvent Ukraine's laws for entering Crimea and go through Russia are subject to penalties, as it is viewed a serious violation of Ukrainian law. Penalties could include a ban upon entering Ukraine, a business-relations ban, or the suspension of financial operations  in the country.
"Simferopol" is also misspelled as "Simferapol."