The mobile operator's press service stated that they did not publish this video, nor did they launch such a charity campaign. Kyivstar believes that this disinformation attack is aimed at deliberately causing suffering to the relatives of the victims and creating a public outcry.
The propaganda Telegram channels, as well as some social media users, are spreading information that the Ukrainian mobile operator Kyivstar allegedly revealed real losses of Ukraine since the beginning of the full-scale Russian invasion. So, on Ukrainian Defenders Memorial Day, the company allegedly launched a charity campaign "send a message with the word "Thank you" to the number of a fallen soldier." In a promotional video allegedly published on the company's official YouTube channel, it was reported that 400 thousand heroes will never answer the call.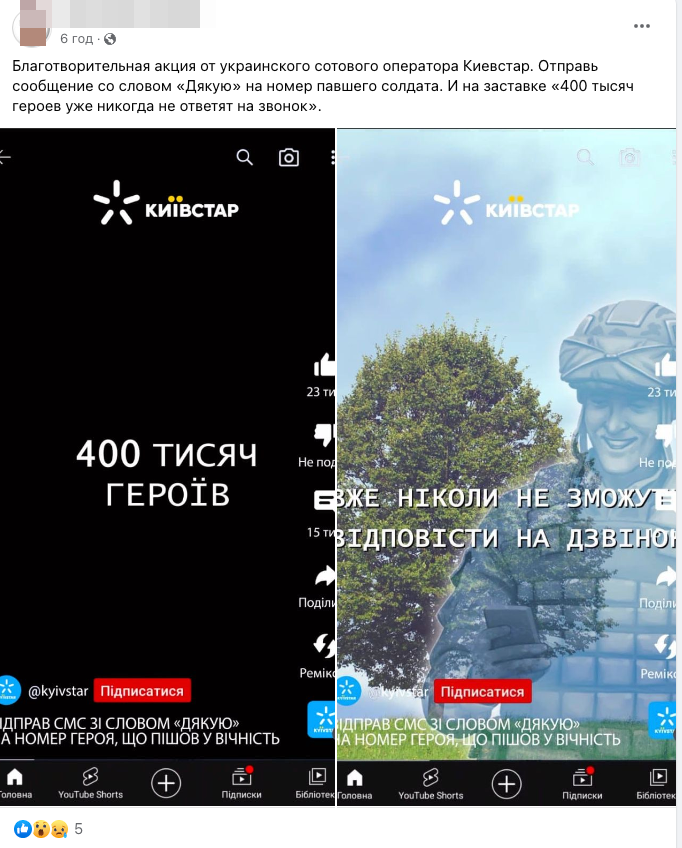 "The charity campaign of the Ukrainian mobile operator turned out to be a sensation, and not for their clients, but for analysts," some users write.
It is notable that the screenshots of the Kyivstar video as well as the information about the charity campaign are published exclusively by pro-Russian resources, which have repeatedly been caught spreading disinformation. At the same time, these posts emphasize that this video has been allegedly removed at the moment, because Kyiv is carefully trying to hide the truth.
The Kyivstar press service absolutely denies launching such an initiative and publishing this video clip.
"The information that Kyivstar calls for SMS messages to be sent to the numbers of fallen soldiers is unreliable, fabricated and, obviously, aimed at deliberately causing suffering to the relatives of the deceased and provoking a public outcry," the company's official statement said.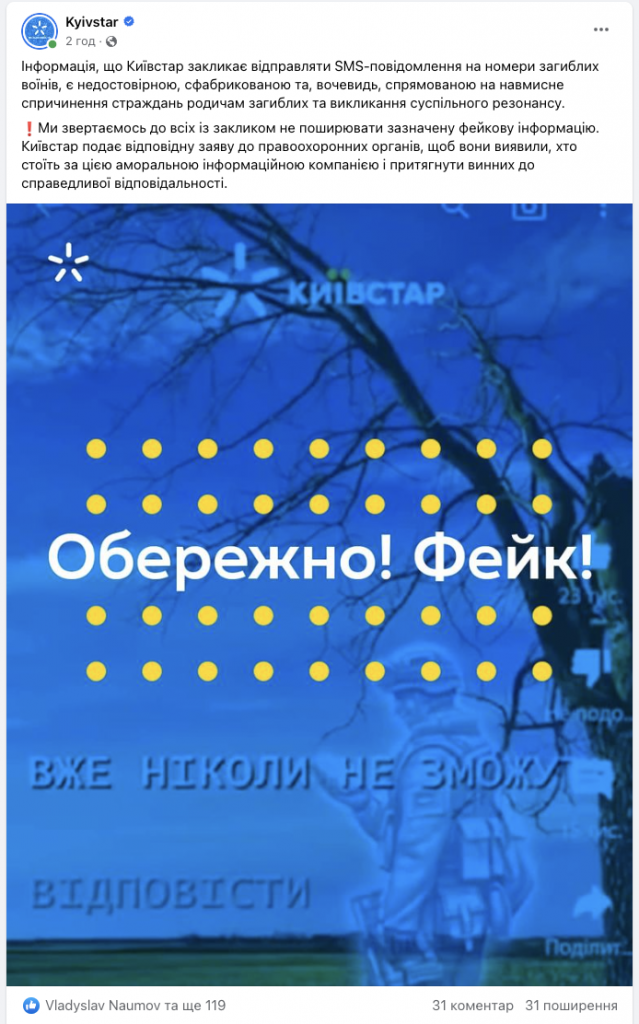 The press service of the mobile operator also stated that they will submit a statement to the law enforcement authorities to find out who is behind this "immoral information campaign" and bring the culprits to justice.
As of now, there is no publicly available accurate information about the total number of Ukrainian servicemen killed or wounded since the beginning of the war in Ukraine. On December 22, 2022, adviser to the President's Office Mykhailo Podolyak, referring to the estimates of the Ukrainian Forces General Staff, stated that since the beginning of the full-scale war, the losses of the Ukrainian army amounted to 13 thousand fighters. In May 2023, Volodymyr Zelenskyi announced that Ukraine no longer comments on military casualties.
At the same time, Kremlin propaganda regularly uses this topic in disinformation campaigns against Ukraine. For example, StopFake journalists previously refuted such false reports about losses in the stories Fake: US Announces Ukraine's Heavy losses in the Counteroffensive, Fake: Ukrainian Army Suffered Colossal Losses, Including 234 US and UK Instructors, Fake: 10 Thousand Poles Dead in Ukraine Since the War Began.