The Vatican allegedly paying Russia for gas in rubles turned out to be Twitter joke, the person who posted it, ended up apologizing for it. Even though the post was a joke, Russian media and social media users rushed to republish it as real news.
Social media users and Russian media websites rushed to announce that the Vatical was the first in Europe to pay Russia for gas in rubles. "The Vatican purchased national currency from the Russian Federation Central Bank in the amount of 10 million euros. The Vatican Bank then made a payment for Russian gas in rubles" social media users said.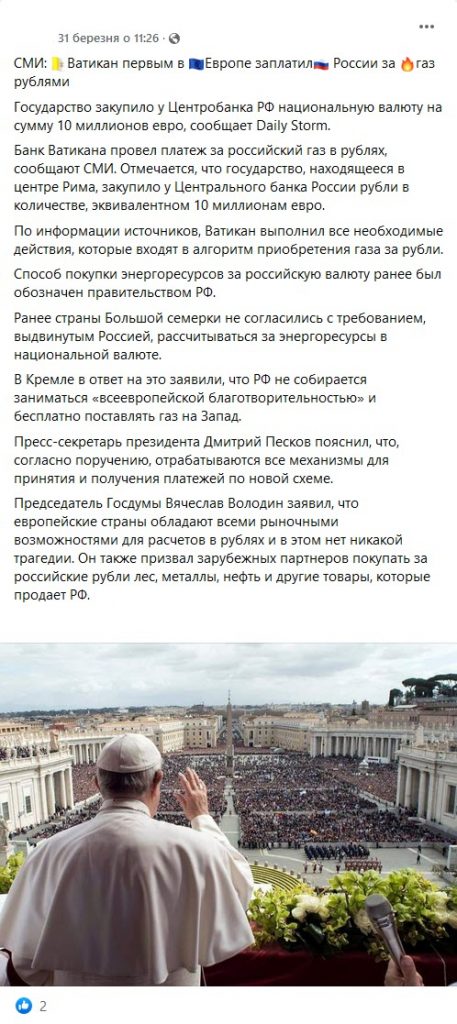 The claim that the Vatican paid its Russian gas bill in rubles is not true. The claim first appeared on March 28 in the Russian language Twitter feed of Maria Ledovskaya, a Moscow account set up in 2012. Ledovskaya has a line from the Christian mass as her description and 2,130 followers. Most of her tweets are pro-Kremlin pronouncements with almost no engagement, retweets or likes. However, Ledovskaya's tweet about the Vatican paying Russia in rubles had more than 700 retweets and 2,179 likes.
The Vatican Bank was the first to pay for gas in rubles today, having bought rubles worth 10 million euros from the Central Bank. The Pope turned out to be much smarter than many European politicians who fell into a stupor from the requirement to buy gas in rubles. Well, that's why he's the Pope. And with gas, and brains, Ledovskaya tweeted.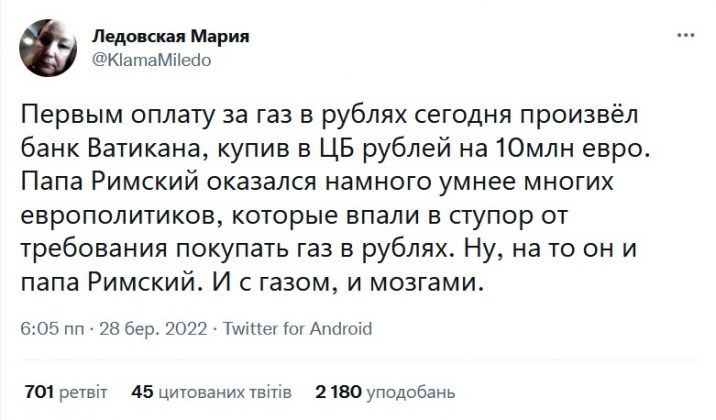 Two hours after posting this tweet, Ledovskaya explained that her tweet was a joke and apologized. However, this did not prevent the Russian media from disseminating this "news" throughout the web.
The fake was factchecked and debunked by the websites Myth Detector, Peril of Africa and Oilprice.com.
Russian President Vladimir Putin set a March 31 deadline for the government, Gazprom and Russia's Central Bank to agree on ruble payments for Russian gas from so-called "unfriendly" countries. However, on March 28, the G7 rejected Russia's request, saying it was a unilateral violation of existing contracts.
StopFake continues to debunk Russian fakes about events related to the war that Russia has unleashed against Ukraine. Recent Russian disinformation that StopFake conducted truth autopsies on include Fake: International organizations don't want to investigate Bucha atrocities; Slovak government: Russia's claims it destroyed S-300 air defense systems supplied to Ukraine is false; Fake: Ukrainian troops blow up nitric acid tanks in Rubizhne.