In a tried and true manner pro-Kremlin site Ukraina.ru distorted the words of a European political analyst to declare that the majority of Ukrainians do not believe Ukrainian authorities' statements about Russian aggression in the east of the country and 63 percent of them consider the conflict to be a civil war. In fact Simon Weiss, a fellow at the German think tank Friedrich Ebert Stiftung, said that most Ukrainians – 63 percent -would like to see a regional rather than an international approach to solving the conflict in Donbas.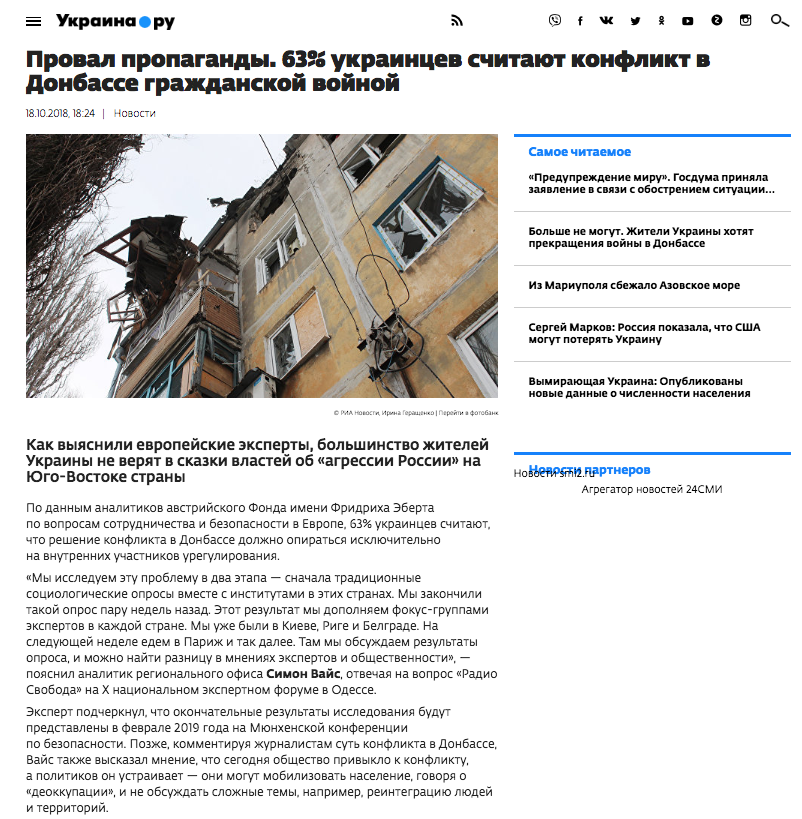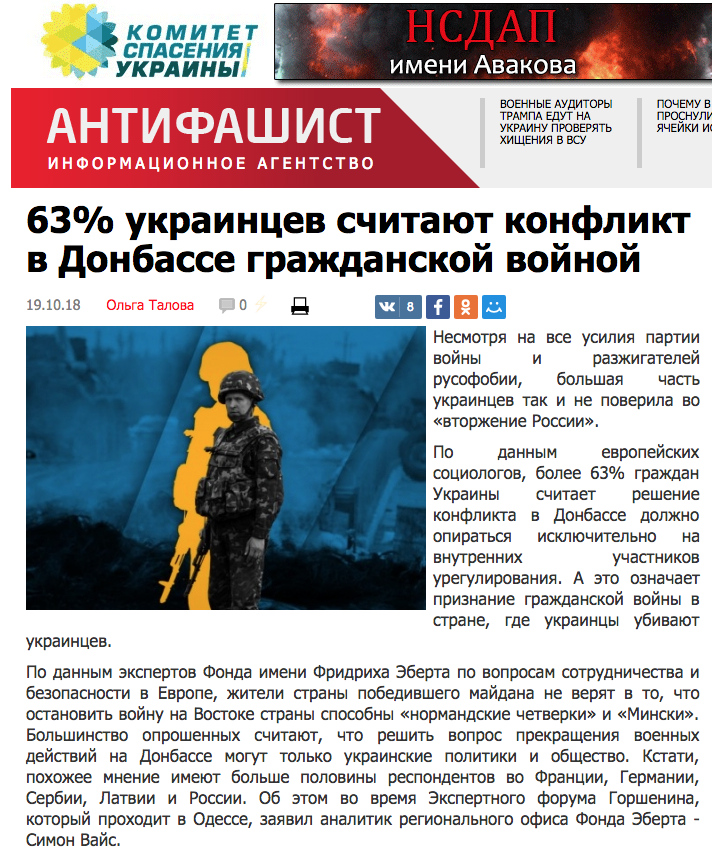 Speaking at a National Experts Forum held in Odesa and sponsored by the Ukrainian think tank, the Gorshenin Institute, Simon Weiss spoke about the necessity of finding ways to solve the eastern conflict. Most Ukrainians do not support the idea of peacekeeping missions in the Donbas, they would rather see a gradual transformation of the area into an island of regional cooperation with a focus on humanitarian aspects, Weiss said. (See video 01:34:24)
Speaking to Radio Liberty about the Experts Forum, Weiss said Ukrainian society has become used to the conflict in Donbas and that is why it is time to talk about creating institutes to reintegrate the war torn areas back into the Ukrainian fold, either through the help of peacekeepers or by expanding the areas that are free of Russian militants.
No matter how much Russian propagandist media claim that Ukrainians view war in eastern Ukraine as a civil war, polling data tell a completely different story.
The most recent sociological survey about the Donbas conflict conducted by Kyiv's most reputable polling institutes, Democratic Initiatives and the Razumkov Center, asked what needed to be done for peace to return to the Donbas. The largest number of respondents, 32 percent, said "force Russia to stop interfering in the Donbas conflict".