Ukraine's military are planning acts of sabotage in Russian-annexed Crimea declared Russian media on October 11. RT, Sputnik, Rossiyskyi Dialog and others featured stories claiming that Ukraine's military attempts at sabotage and diversion are fantasies and would not be successful.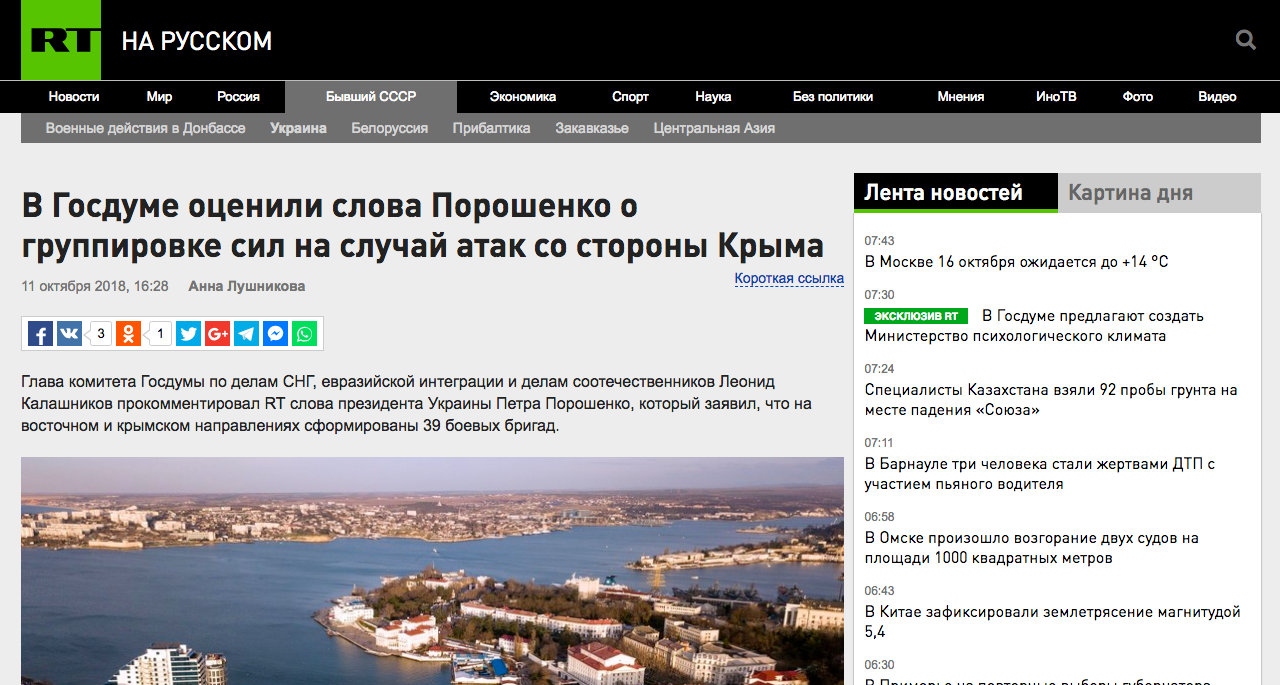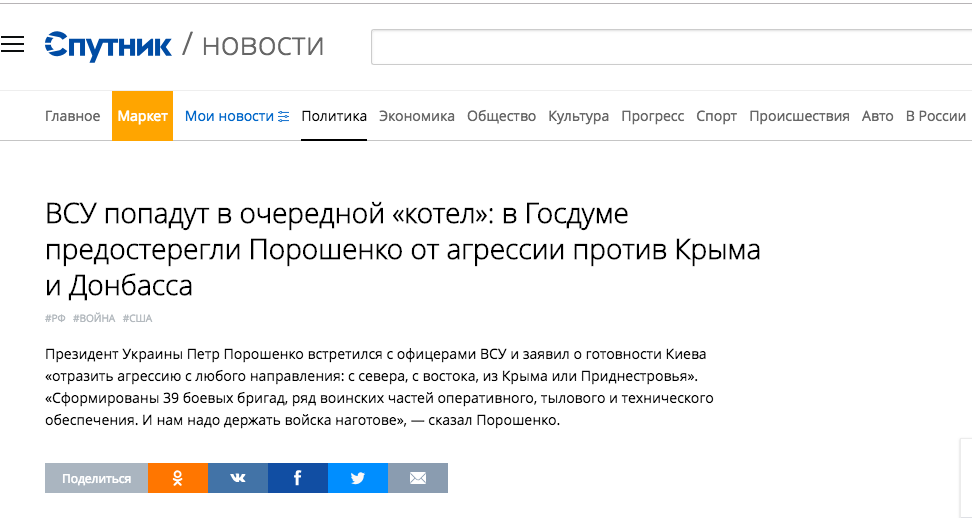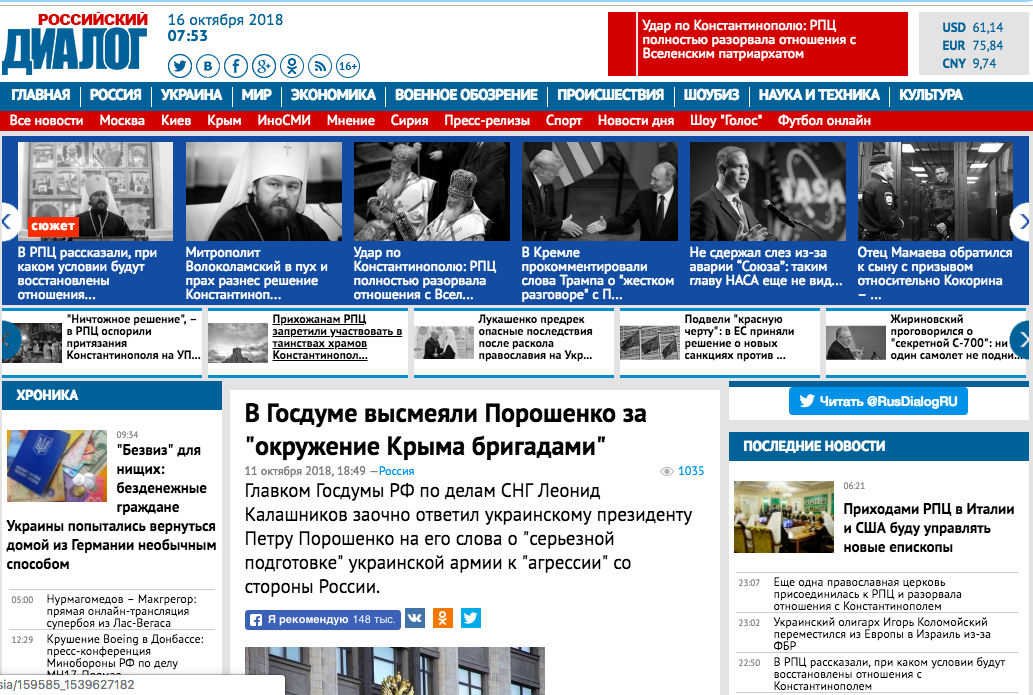 This wave of fakes mocking Ukraine's military came as a response to President Petro Poroshenko's announcement that 39 additional military units were deployed along Ukraine's border in places considered to be at risk from Russian attack, including along the border with Crimea. Leonid Kalashnikov, the head of Russia's State Duma CIS Committee responded by accusing Ukraine of "preparing provocations in Crimea" and claiming that Ukraine had "no money to support the additional brigades anyway".
"What 39 brigades? Anyone who follows Crimea understands that all manner of provocations come only from the Ukrainian side. They've already cut off the water and rail transport" Kalashnikov said. Other Russian MPs followed with similarly dismissive criticism of Poroshenko.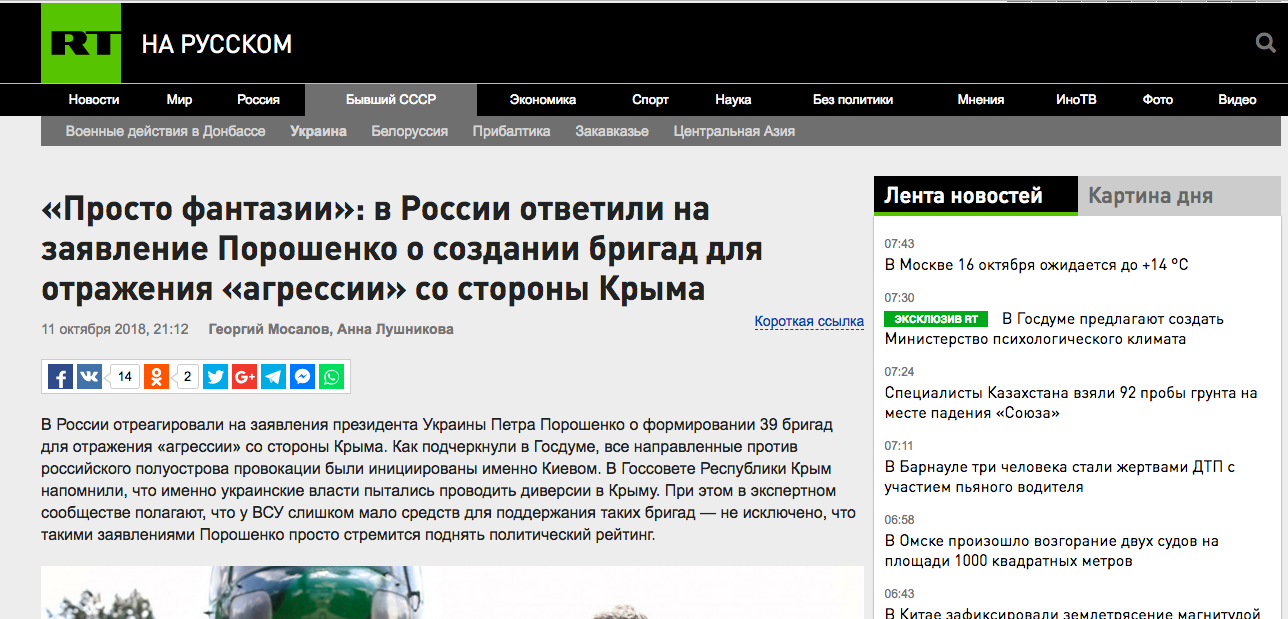 During a meeting with the chiefs of Ukraine's military and security forces President Poroshenko announced the formation of additional units and explained that 39 new brigades were being placed not only on Ukraine's border with Crimea but along other potential areas of Russian military intrusion, such as Transnistria and the very long eastern border with Russia. These units, Poroshenko stressed, were formed to defend Ukraine's mainland and not to attack Crimea, as Russian politicians and media claim.
"These formations are created to thwart aggression in areas that could be threatened, not only from the east, but also from Crimea. Our troops must be on alert from all sides, including from Transnistria and the north," Poroshenko said.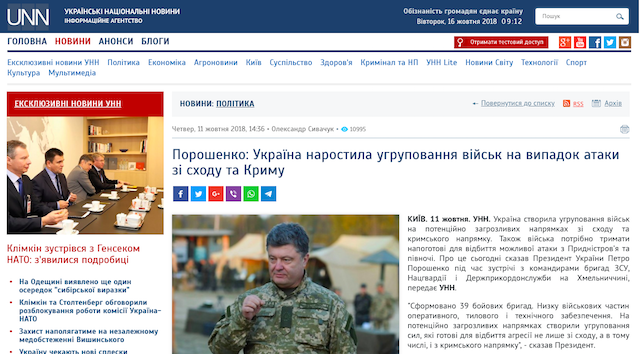 Kyiv has always maintained that Crimea would be reclaimed through diplomatic channels and not through military conflict. During an August press conference Ukraine's Presidential Representative for Crimea Izet Hdanov once again repeated that Ukraine has no military plans for retaking the annexed peninsula.
"We must work with all state institutions in implementing sanctions launched against Crimea in order to make Crimea more expensive for the occupier. We have no plans to retake Crimea militarily. But the President of Ukraine has taken a decision to increase pressure on the aggressor" Hdanov said.
https://www.facebook.com/petroporoshenko/photos/a.474415552692842/1314639408670448/?type=3
Poroshenko envisages Kyiv will reassert control of the peninsula using diplomacy. "As Russia hurriedly militarizes Crimea, restoring Soviet-era bases and turning Crimea into an island of un-freedom, we should utilize all international legal channels to transform Crimea into an unbearable burden for Moscow," he said.
Ukraine's Defense Ministry has repeatedly stated that it is Russia that is increasing its military presence in annexed Crimea, posing a threat to the southern regions of the Ukrainian mainland. According to the chair of Ukraine's Parliamentary National Security Committee Iryna Fryz, since the annexation Russia has almost tripled its military presence on the peninsula.
StopFake has debunked several earlier Russian fakes claiming that Ukraine was planning acts of sabotage and  special operations in Crimea.